As we prepare for our Annual Statewide Meeting, our work in October reminds us that passing state laws is just the first step. In order to truly win #PaidLeave4All, we need to continue to organize and engage with electeds and agencies to ensure that our program is accessible to everyone who needs to take time to bond or care. Please join us in this work by donating or joining the Coalition. We have a lot to plan and a lot to celebrate. Join us!
How is CA PFL Working? SoCal Members and the EDD Meet to Share Updates and Input
Coalition Members and the EDD Meet in LA
On October 28, the California Work & Family Coalition convened an in-person meeting between the Employment Development Department DI Branch (EDD) and Coalition members and community leaders in Los Angeles and Southern California. EDD staff and Coalition leaders shared information on how the program is working both from the agency point of view and from the point of view of LA and So Cal-based workers and organizations who are either taking PFL or helping members apply. Since PFL passed in 2002, Coalition members have been at the EDD table to give input on issues of access and even to partner on raising awareness in diverse communities across the state. Coalition Director, Jenya Cassidy, said, "Centering the voices of people who need the program is a huge step toward making this program work for all Californians." And EDD Director, Patrick Henning opened the meeting by commenting on the passion and tenacity of those present: "I wish every issue in the state had such a committed group of advocates willing to work on it!" Among the meeting attendees were members of Parent Voices, SEIU Local 99, Small Business Majority, ACLU So Cal, Legal Aid at Work, Staff from Senator Maria Elena Durazo's office, the African-American Infant & Maternal Mortality Community Action Team, BreastfeedLA, California Budget & Policy Center, ROC-LA, IDEPSCA, CAUSE, Staff of Long Beach City Councilmember Pearce (D2), Center for Work Life Law, the National Council for Jewish Women/LA, California Partnership to End Domestic Violence, and more.
National Convening of Agencies and Advocates Focuses on Equity in Paid Leave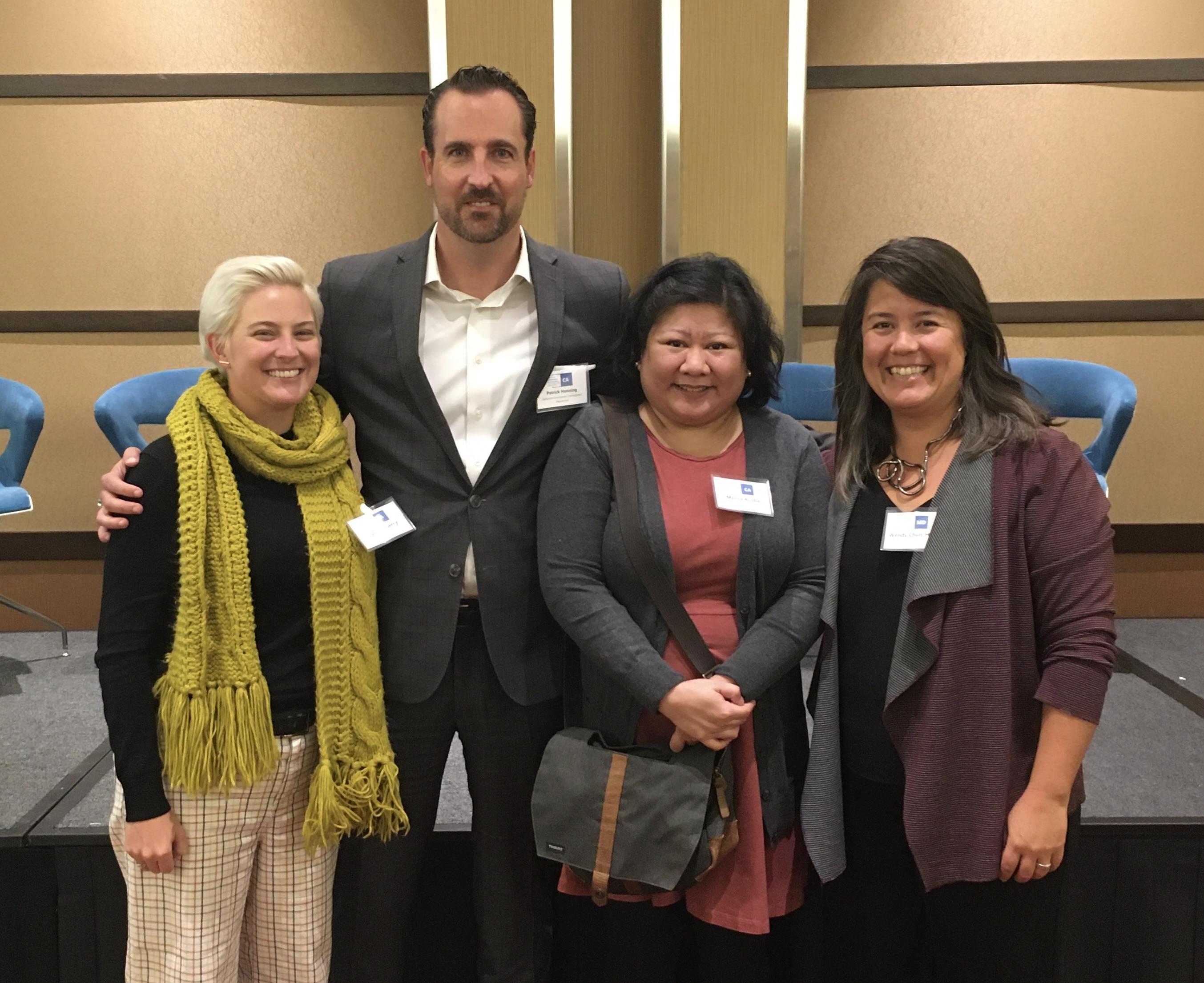 Jenny Gerry (LAAW), Patrick Henning (EDD), Melisa Acoba (CA WFC), and Wendy Chun-Hoon (FV@W) attend the convening in WA
The Coalition joined 12 other delegations from states across the country at Paid Leave Collaboration and Connections: A Convening for States Leading the Way, hosted by Family Values @ Work, the Center for Law and Social Policy (CLASP), and other allies in Tacoma, Washington on October 22-24. Centering on equity in paid leave programs, the meeting brought together staff from implementation and enforcement agencies, state campaign leaders, and national experts to share best practices and lessons learned. Coalition staff, Melisa Acoba, presented on conducting outreach with healthcare providers, while Jenna Gerry from Legal Aid at Work talked about how IT systems can make paid leave more accessible through better design. Employment Development Department Director, Patrick Henning, also shared key insights drawn from California's 17-year implementation journey and our ongoing efforts to achieve equity in paid leave. These conversations are crucial as momentum around a national paid family leave policy increases, and states continue to develop their own Paid Family Leave programs. The Coalition will continue to push for the national FAMILY Act, while ensuring that California's Paid Family Leave program is stronger than ever.
Lactation Accommodation Bill Passes!
On October 10, Governor Gavin Newsom signed Coalition priority bill, SB 142, authored by Senator Scott Wiener and co-authored by Assemblymember Lorena Gonzalez. The bill, sponsored by Coalition members California Breastfeeding Coalition, Legal Aid at Work, and California WIC Association, expands current lactation accommodation rights by clarifying employer obligations, and increases penalties for non-compliance and protections against retaliation. All lactating parents are entitled to safe and sanitary spaces to express milk, and the new law fosters better communication about lactation policies in the workplace and encourages more businesses to create a family-friendly environment. More importantly, it supports parents by empowering them to balance their choice to continue chestfeeding after returning to work.
RSVP Today: The Annual Statewide Meeting is December 17th in Oakland

Join Coalition members from across California to discuss and plan our work together for 2020! We have a lot to plan and a lot to celebrate this year! In 2020, we see new opportunities to build leadership in the districts and across the state with regional trainings, local legislative visits, and organizing with members, parents, and caregivers in outreach, education, media, and policy work to expand access to Paid Family Leave. Click HERE to RSVP

Details:
Date: December 17, 2019
Time: 9:30 am to 3:30 pm
Location: 1000 Broadway, Oakland, CA 94607

Travel stipends are available. If you need help covering travel expenses, please email Melisa Acoba at melisa@workfamilyca.org or Jenya Cassidy at jenya@workfamilyca.org by Friday, November 22.
Help us expand California's Paid Family Leave and win family-friendly workplaces for all workers!
Donate or join the Coalition today!
Your tax-deductible donation will move us closer to our vision of a California where all people have the time, resources, and support systems to care for themselves and their families and to lead meaningful, healthy, and happy lives.
Do you like this post?